The stunning 4D cinema inside the LEGO® Studios adds a lively character to all our 3D movies - You! You will be transported in the adventures of the LEGO heros, experience gusts of wind, rain, lightning and even snow! Come and experience the magic of our 4D Cinema!
Several exciting movies are waiting for you:
LEGO® DREAMZZz: Experience our new LEGO DREAMZZ 4D short film. Join Mateo and Izzie on adventurous journeys through the Land of Dreams. Fun, friendship, and imagination await, along with the challenge of protecting their loyal companion Z-Blob from the evil eyes of the nightmares. Dive into the magic of dream worlds - an unforgettable cinema experience for the whole family!
"LEGO® City - Cops in Action" 
"The LEGO® NINJAGO® Movie - Master of the 4th Dimension" : Our favourite ninja welcome the audience into their training Dojo to show off their awesome NINJAGO moves in an explosive 4D demonstration
"THE LEGO® MOVIE™ 4D - A New Adventure"": The great adventures of Emmet and Wyldstyle, the popular heroes of the box-office hit continue in the new 4D-animated film 
Come and fight skeletons and an evil magician in "The Magic Spell"
A new movie starts every 20 minutes and we show 3 movies per hour. Every movie lasts around 12 minutes. All children 8 years and older are allowed to watch the movie alone. If they are younger they have to be accompanied by an adult. You can see at the entrance of the 4D cinema which movie will be shown next and you also get your 4D glasses there.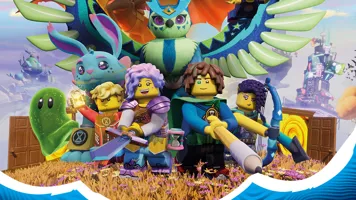 LEGO® DREAMZZzz Trailer
Watch the trailer here and immerse yourself in the captivating world of LEGO® DREAMZZz!