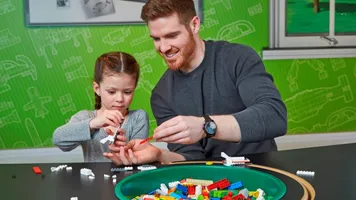 Model builders workshop
Each Discovery Centre has its own LEGOLAND® Discovery Centre Master Model Builder, responsible for all the brilliant buildings, exciting animals and strapping heroes that you'll discover throughout the Centre. Here in the LEGOLAND® Discovery Centre Master Model Builder's workshop you'll have your chance to learn from the Master with hands-on tuition from the best in the business and learn how to create your own incredible models.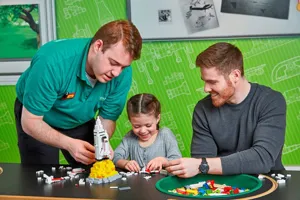 Was erwartet dich im LEGO Modellbau Workshop:
Einen ca. 30-45 minütigen LEGO Workshop rund um knifflige Modelle
Jeden Monat werden neue Modelle gebaut passend zur Jahreszeit oder Wünschen der Gäste
Lerne von unseren Modellbauern und baue dein eigenes LEGO Modell zum Mitnehmen
Erhalte ein Modellbau-Zertifikat
Weitere Informationen:
Vorrangig gehen die begehrten Plätze erstmal an die Kinder - natürlich dürfen sich die Eltern bei genügend Sitzplätzen daneben setzen und mitmachen oder von außen zuschauen. Wenn das Modell gefällt ist natürlich auch ein Kauf möglich - Preise liegen bei 5€ pro Modell. Der Workshop wird immer zur vollen Stunde angeboten. Vormittags allerdings haben gebuchte Schulklassenworkshops Vorrang. In jedem Workshop können bis zu 26 Kinder teilnehmen.