Nine-year-old with low vision receives a life-changing gift at LEGOLAND® Discovery Centre Melbourne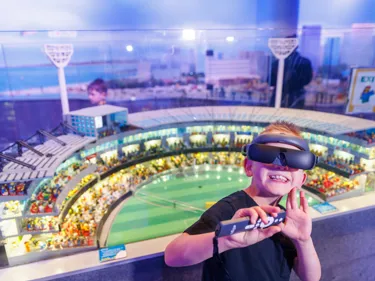 A nine-year-old boy is now seeing life through a new lens thanks to eSight, RSB and LEGOLAND® Discovery Centre, starting with a fun day out at the Melbourne attraction.
The lucky recipient of an eSight 4 device, Ethan Pridham from Munno Para in South Australia travelled to the Melbourne attraction to receive his life-changing gift and experience the joy of LEGO® in a way that would have previously not been possible.
With a price tag of $10,000, eSight 4, eSight's latest technology, is clinically proven to enhance sight through a combination of best-match camera and lens technology to stimulate the brain, providing increased visual information that compensates for gaps in the user's field of view.
eSight 4 allows wearers to remain mobile and is used by thousands of people with more than 20 eye conditions, including Ethan's condition; Oculocutaneous Albinism. Whilst wearing an eSight 4 device, Ethan can see finer detail, which is perfect for LEGO® building, as the device helps to magnify and improve the contrast of what the wearer is seeing.
Today, on Ethan's first ever visit to LEGOLAND® Discovery Centre Melbourne, he had the opportunity to spend hours exploring the attraction – with Miniland Melbourne being the first stop! Ethan's favourite activity appeared to be the stop-motion video room, where he worked with a staff member to create his own underwater themed build.
Ethan's mum, Kimberley explains that "Ethan's condition has made his life a lot more challenging than other children his age as it effects everything in his day to day life, from playing to schoolwork.
"Ethan receiving the eSight 4 is amazing, it is life-changing for him and will help make his everyday life a lot easier." Kimberley continued.
Merlin Entertainments who own and operate LEGOLAND® Discovery Centre in Melbourne have previously worked with eSight in North America to provide life-changing experiences for individuals with vision impairment, however this is the first time an Australian based initiative has been launched. The partnership aims to create more inclusive initiatives for individuals with low vision, and it is hoped that offering the free use of an eSight 4 device for guests will be rolled out to other Australian based attractions.