LEARN & DISCOVER
Play and Learn
LEGO is not just a toy!
Building LEGO® is more than just putting bricks together and simply 'playing'.  When children play they are learning valuable skills that include social, cognitive and physical development, and building, in particular, develops spatial awareness, problem-solving, reasoning and fine motor skills in a fun, playful way.
Play-based learning also motivates children to develop a positive attitude towards learning and at LEGOLAND® Discovery Centre Melbourne your creative genius can play their way through the ultimate indoor playground.  With a variety of zones to suit any age, your child will learn new ways to express their ideas, one brick at a time.
Take a look below at how your little ones can learn through the different stages of their childhood at the centre.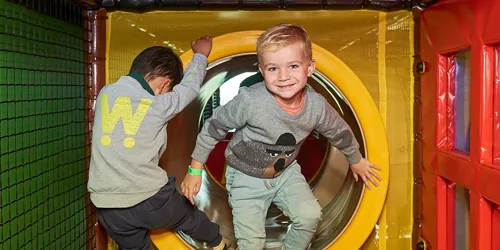 3-4 Years
From the age of three, your child is developing skills such as learning colours and shapes. They also start to become interested in playing with others and playing in a more imaginative way, such as creating stories and playing 'pretend' games with toys and giving them different roles and behaviours.
Your little builders can let their imaginations run wild in our DUPLO™ Farm, where they can play, build and learn using our big, soft, brightly coloured LEGO® DUPLO™ bricks. This zone is full of teachable moments and role play stories to boost their creativity and motor skills.
5-6 Years
Your child's 'pretend' play is getting a bit more complex now and will be filled with lots of fantasy and drama. They are also becoming more social and prefer to play with friends rather than on their own.
That's why our LEGO® Friends zone is perfect! Pay a visit to Heartlake City, meet the LEGO® Friends and get creative as you create stories and build additions for the city. How about joining our Master Model Builder in a Creative Workshop? Pick up some insider tips and tricks from our Master Builders, who can create anything from LEGO®.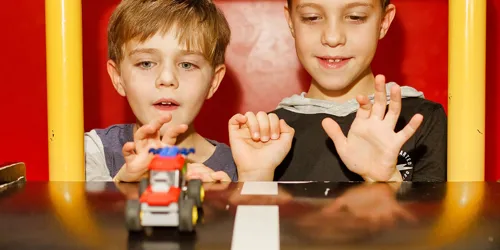 7-8 Years
By this age your child is better at controlling their own behaviour and emotions, meaning they can handle playing games that involve rules and understand competition and playing fair. Your child also enjoys making friends and being a friend at this age. Friendships give them a sense of belonging and help them learn and practice basic social skills like sharing and negotiating.
Our LEGO® Racers: Build and Test zone is a great place to embrace this stage of development. It is full of excited young builders creating and testing their own race cars and then racing them on the track, and competing for the fastest car.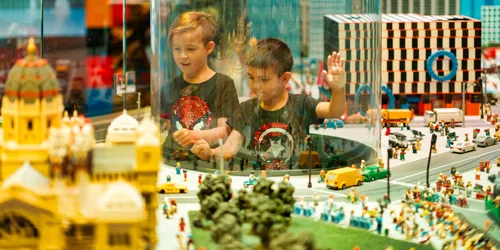 9-10 Years
Your child has developed a sense of realism, so MINILAND® is the best place to let their imaginations run wild. Built with over 1.5million bricks, be prepared for 'ooohs' and 'ahhhs' as they explore and play with the interactive city of Melbourne.
While all children learn in different ways and at different stages, they will be sure to learn a thing or two each time they visit.
COOL IDEAS
TELL STORIES
You could encourage your child to make up a story about their LEGO® creations. They could film a scene to create a stop motion or short film of their tale. Or they could invent an adventure in which they're the star and create a LEGO avatar.
CREATIVE CHALLENGES
You could challenge them to a timed build – give them a set number of bricks and a time limit such as 10-15 minutes and see what they create. You could give them a fun theme such as sport, animals or cars.
LEGO® GAMES
Have fun playing a brick building game together. You could take it in turns to build an object, animal or character for the other one to guess, and you can ask questions to help you solve the brick clue.
SHOWCASE CREATIONS
Why not encourage your child to share their creations? Display favourite builds or new creations; create a colourful podium out of bricks; or share a photo on our Facebook page – we'd love to see what you've created!
LEGO® BUILD IDEAS
EXPLORE THE WORLD
Little builders love exploring. Playing with DUPLO bricks helps your child learn about the world. You could talk about colours and shapes, or create DUPLO animals – such as a pig, sheep or horse – and have fun guessing their names and making their animals noises.
DUPLO® GAMES
You are your child's first playmate, why not have fun creating games when you are building together? You could play Hide and Seek with your DUPLO creations, or counting games with bricks.
TELL STORIES
You can use DUPLO bricks to help bring a story to life – real or imaginary, long or short. It doesn't matter if the bricks are the right colour, shape or size, DUPLO bricks can become anything you imagine: a rocket on a space mission, a lion in a jungle adventure, or a whale exploring the ocean!
PRETEND PLAY
Pretend play helps children develop their imagination – why not have fun playing characters, they could be from fantasy or real life? You could use DUPLO bricks to create fun props – such as a tiara, glasses or a magnifying glass – and talk in a silly voice when you play the character.
DUPLO® BUILD IDEAS